The Map of Jamaica
- A useful guide
I have provided much detail about Jamaica, but you I guess you wouldn't mind a Map of Jamaica would you?
New! Here's the latest (and best) Jamaican map, courtesy of Google! Use the "+" and "-" icons on the map to ZOOM and explore in more detail.

View Detailed Map of Jamaica in a larger map
After all, you get a graphical view of our beautiful island. It will outline that Jamaica is approximately 235 kilometers long, and varies between 35 and 82 kilometers wide.
You will also notice that the island is the largest island of the Commonwealth Caribbean and the third largest of the Greater Antilles, after Cuba and Hispaniola, spanning an area of 10,911 square kilometers.
The country lies 145 kilometers south of Cuba and 160 kilometers west of Haiti. Our country capital Kingston, is about 920 kilometers southeast of Miami.
Below is a location map of the island. You will realize that Jamaica (circled) is only a dot! Don't be fooled by our size though, we are BIG! Sports, Entertainment and Music are typical examples of where we shine brightly!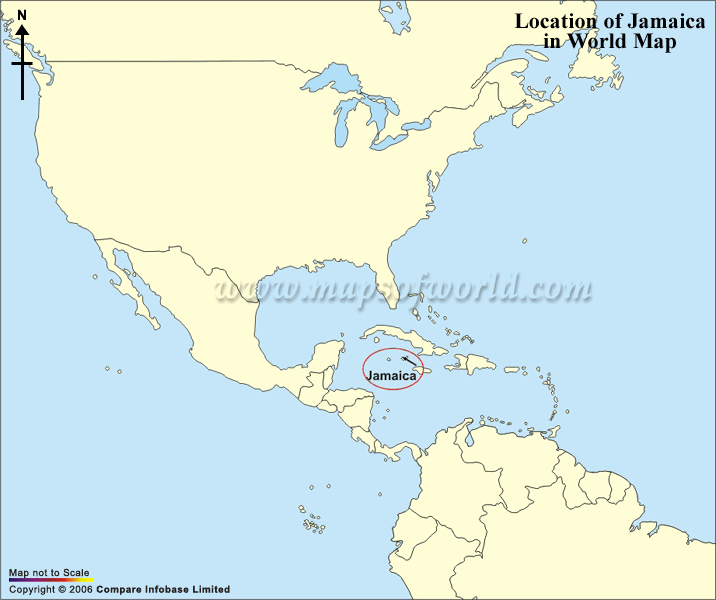 Thanks to Encylopedia Britannica, Here too is a neatly presented physical map of Jamaica, showing the main Town and City Areas!
If you are interested in a Blank one[CLICK HERE] to go to my 'Blank Map of Jamaica' page.
This is particularly useful for educational purposes!
In addition, If you are interested in a Road Map, typically you would have to pay a price, but I found a 'philanthropic' group, The Jamaica Caves Organization, that makes one absolutely free.
You only have to worry about printing! They also make some of the main towns (eg. Montego Bay) clickable so can get even more detail. [Here is the Link]
The Map of Jamaica is indeed a useful guide to our visitors and students interested in our country.
---
Please subscribe to My Island JamaicaMini-Blog also. This RSS feed is a small blog about Jamaica (kind of a journal), which will also let you know whenever any new or changed Web pages appear on My-Island-Jamaica.com. It keeps you up-to-date with other special postings that you might otherwise miss.
Look for the XML|RSS graphic on the links bar to the left of this page and subscribe there.
---

Return to Facts about Jamaica from Map of Jamaica Return to My Island Jamaica from Map of Jamaica