Mystic Mountain Adventure Jamaica
by Denise Salmon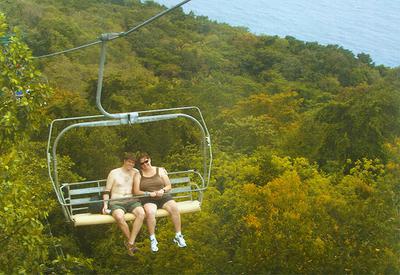 mystic_mountain_couple_ziplining
Mystic Mountain Adventure Jamaica - Poem by Denise Salmon
(July 2013)

My friends said I was being quite absurd
When I told them I was planning to fly like a bird
Up in the air, above the trees
I wanted to feel the cool island breeze

So I packed my bags and off I went
I told them ,don't look for me because I'll be absent
I'm going on a marvelous trip
In the Caribbean Sea I'll take a dip

But I went to a place called Mystic Mountain in Ocho Rios
My trip was very nice, there was absolutely no chaos
It was not very long before I was attached to a Canopy zip line
Because flying through the air was always a wish of mine

This beautiful place took my breath away
Everything was just perfect, I knew I would enjoy my day
The birds can no longer say they have an edge over me
Because I'm flying while I'm looking at the Caribbean Sea

There was a lot more there for me to enjoy
I'll have a great story to tell, my heart was filled with joy
So I went Bob sledding like the Jamaicans did years ago, it was so cool
And slid down the Mystic Water Slide into the Infinity pool

Then I went to the butterfly Attraction Garden and the Humming bird Garden too
It was nice to live like these creatures they are so beautiful and they have nothing to do
Then it was time for dinner and I had a lovely meal
In the Mystic Dining area, 700ft up in the air, Oh, what a deal

The Mystic Mountain experience was more than I had bargained for
It was even more wonderful than a fun filled adventure
I realized I was just learning the meaning of the word fun
As I enjoyed the beautiful scenery and the warm Caribbean Sun

I wish all my friends could see what they are missing
My trip to Jamaica has been more than a blessing
They are the ones who are really absurd
They still haven't learned how to fly like a bird.


---
Editor's Note:
The Mystic Mountain Adventure is located in
Ocho Rios Jamaica
Their local contact number is (876) 974-3900/
The USA contact is 866-759-8726.
Visit their webpage at
http://www.rainforestadventure.com/jamaica_ocho_rios_tours_excursions/
for more information.
Join in and write your own page! It's easy to do. How? Simply click here to return to Your Favourite Jamaican Attraction.
Like our Facebook page https://www.facebook.com/myislandjamaica
Follow us on Twitter https://twitter.com/myislandjamaica
Thanks For Reading!
Like What You Just Read?

Please join me in my effort to share the beauty and uniqueness of Jamaica with the world. You can do so by sharing this insightful narrative on the social media of your choice and ask others to do the same (BELOW). 

Need Help?
We have a cherry list of top Jamaican companies that might be able to help you. Please click here to see them, our preferred partners and site sponsors.
Get Exclusive Updates & Tips!
You are also welcome to join my special friends list and receive exclusive updates (like this), tips, trivia and stories from lovers of Jamaica!
I'll Gift You A FREE COPY of my eBook, 101 Intriguing Facts About Jamaica - just for subscribing!

Just enter your email & name below:

Top Of Page