Rachael Graham Art & Craft, Catering & Tutoring
by Rachael
(London England)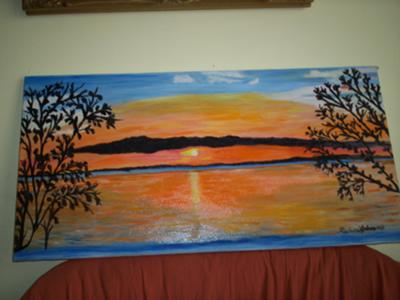 one of my pastel Sun Set
Fifty Seven Years Young:


I am an ARTIST, Hhave been cooking since the age of eight. A Caterer who Specialize in Healthy eating and Cooking. Fresh Fish White Meat and all the Vegetables that God put on the face of the earth.
I Cook for all Occasions I don't Cook pork. I am a people person and part of my enjoyable skills are Training and encouraging others to build confidence and get motivated to reach their goals.
I will be in Jamaica soon by God's help and, I will be making a difference very very soon.
Art and food is what I do best until I took on a further Education Teaching Course, I enjoy all three because it's rewarding.
Take a look at my web site
www.rachaelgraham.com
and www.sistatalk.co.uk . I am on Face Book but I cant wait to get into the Jamaican Scene permanently.
---
Submit Your Own Business here
or
See other Jamaican businesses
.
Thanks For Reading!
Like What You Just Read?

Please join me in my effort to share the beauty and uniqueness of Jamaica with the world. You can do so by sharing this insightful narrative with your friends on the social media of your choice and ask them to do the same (BELOW). 
Get Exclusive Updates & Tips!
You are also welcome to join my special friends list and receive exclusive updates (like this), tips, trivia and stories from lovers of Jamaica!
I'll Gift You A FREE COPY of my eBook, 101 Intriguing Facts About Jamaica - just for subscribing!

Just enter your email & name below: