Montego Bay Jamaica Beaches - by Rose-Marie Gordon-Cole

If you get a chance to look at an aerial map of Montego Bay you would understand why Christopher Columbus called it "el Gulfo de Buen Tempo", which translates to Fair Weather Bay. This fair weather bay cradles some very beautiful pristine white sand beaches.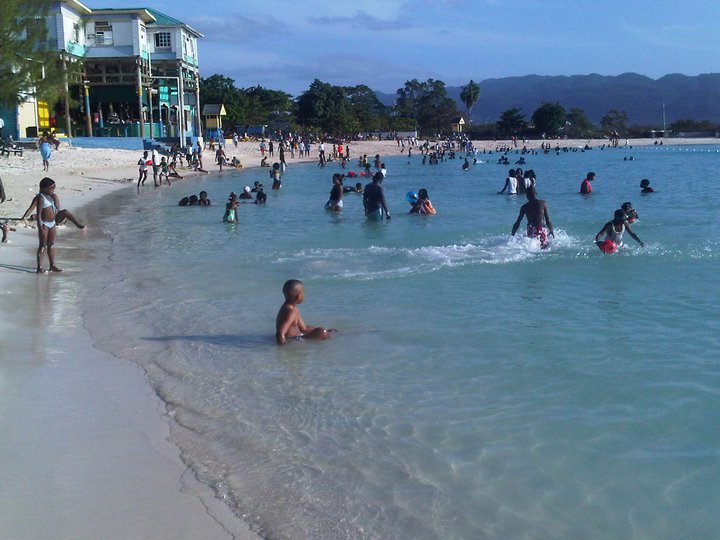 Dump up Beach

Yes the name of this beach is actually Dump up beach. And yes you guess right, it is on a dumped-up portion of the city.

If you look on maps of Montego Bay done before 1974, you would not find this beach as the beach was born out of an expansion project of the city in the early 1970's.

This property is owned by the government and is opened to the public without an admission cost.

With free access you know this is one of the local's favourite. And so it is the normal to see football being played, locals taking a stroll or going for a swim. In addition the beach is used to stage free concerts among other events. The only draw back to this otherwise perfect beach is the absence of bathroom facilities.

Aqua Sol Theme Park

Next to Dump up beach is Aqua Sol Theme Park. This is so much more than sea and sand. This beach, formally called Walter Fletcher beach, was transformed into to a theme park and provides entertainment for the entire family. On this property you will find:

Tennis court
Watersports activities
Hair dressing salon
Sport bar complete with pool tables
Fitness center
Go-cart track
Skating rink
Restaurant
Life guard - between 8am and 5 pm

Of course there is a minimal admission cost and additional cost to access facilities or activities on the above list.

Old Hospital Beach or One Man Beach

Immediately adjacent to the Aqual Sol Theme Park is the Old Hospital Beach or One Man Beach as it is also called.

This beach is tucked between the Theme Park and the old hospital site. Montego Bay's first hospital was once located at this site. Another free access beach, crystal clear waters, perfect white sand beach dotted with coconut and almond trees, again the locals got it made. And again the only thing missing is bathroom facilities.

Doctors Cave Beach

The famous Doctors Cave Beach is next. Said to have healing powers this absolutely beautiful pristine beach is pretty much on most tourist list as a must visit.

This beach is perfect for those persons looking for rest and relaxation. It has all the amenities you will find on a beach that caters for tourist in addition it also boast a gift shop and restaurant.

The Doctors Cave beach is also wheelchair accessible and there is an entrance fee.

It is the most popular for tourists to Montego Bay.

Cornwall Beach

It is rather interesting how most of these beaches are separated just by a few strands of wire but each is so unique. With that in mind, right next to the Doctors Cave is Cornwall Beach, "the party beach".

There is always a party feel on this beach, the pulsating reggae beat is constant, the smell of jerk pork or chicken, tons of water sports, the entertainment is endless. This is also a paying beach.

Sandals Inn Beach

A little ways down the road is the Sandals Inn Beach. Located right across from the Sandals Inn Hotel, this is the beach used by the hotel. Free access and no bathroom facilities.

Finally there is Sunset Beach. This is a good spot to soak up the gorgeous Montego Bay sunset, or just hang out with friends. The nearby sport bar provides an endless island vibe. This beach has free access and no bathroom facility.
Editor's Note: Access to some of these public beaches will be restricted. Apparently they will be embarking on some new developments.
Related: Weather in Montego Bay
Posted: 07/11/2011
Return to Jamaican Beaches from Montego Bay Jamaica Beaches Jamaica.
Return to HomePage from Montego Bay Jamaica Beaches.
---
Back to Top Montego Bay Jamaica Beaches
---
Related Pages
Make sure you subscribe to my free monthly e-zine My Island Jamaica Digest (MIJD) and stay with the latest from Jamaica!
Back to Top Montego Bay Jamaica Beaches
---
Didn't find exactly what you were looking for?
Do a quick search of the entire site.
---