Insightful Information About
Revivalism in Jamaica!
What would be my honest personal feedback of revivalism in Jamaica? It's appealing and thrilling! but it does get a bit scary!
There were two revival churches in my district. They had their official names but we referred to them as 'Mass Standford church' and 'Madda church' respectively, both representative of the name of the respective leader in the church.
'Mass Stanford' was closest to my home and we relish the weekends to go there.
There was always some activity around the church. Neither me (a boy then) nor any of my family members were members of that faith but as children we loved the experience - although sometimes chilling!
I loved the drums. There were two of them- the big bass drum and the 'little drum' (kettle drum). I admired 'Zekel'(Eziekiel), a son of the leader, who played the 'little drum' with dexterity and awe!
He was funny, many times played the drums in reggae beats when church is not in session to entertain us (the kids)- Of course, he could not let any of the older members realize that!
The religious service are characterized by bible reading, the beating of African drums and cymbals (although more modern instruments are been used today), dancing, spirit possession, and the singing of hymns and choruses.
The movements were quite entertaining. The spinning, rotating and whirling are appealing. The entire service is magnetic though-after a while you are virtually pulled into it.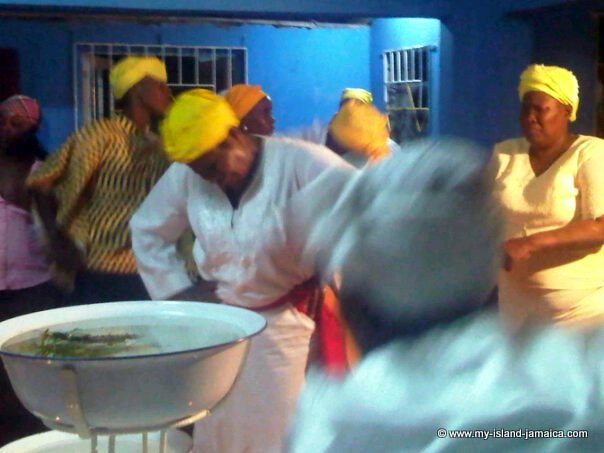 After all, the belief is highly spiritual and mystic! Persons who are 'filled' often roll on the floor and many times appears to fall in a trance. A key aspect of the faith is the warnings and predictions. My first experience at such a service was bloodcurdling!
Towards the end of each quarter in the year, revivalists journey to Watt Town in St. Ann (Ocho Rios area of Jamaica). This is the conference center or headquarters (if you wish) of the movement. There, all the elements of revivalism in Jamaica are displayed!
I noticed then (and now) though that it is mainly the older folks who are usually involved in the revival church. Could this mean that revivalism in Jamaica may be dying?
Honestly, I can't say yeah or nay as I am not as close to the action as I was- when living back in my old district. I can say though that most of the churches are still concentrated in deep rural areas and those are quite steamy.
For a great background into the history of revivalism in Jamaica, including the activities involved, a few more pictures and even some of their songs, take a look here then come back.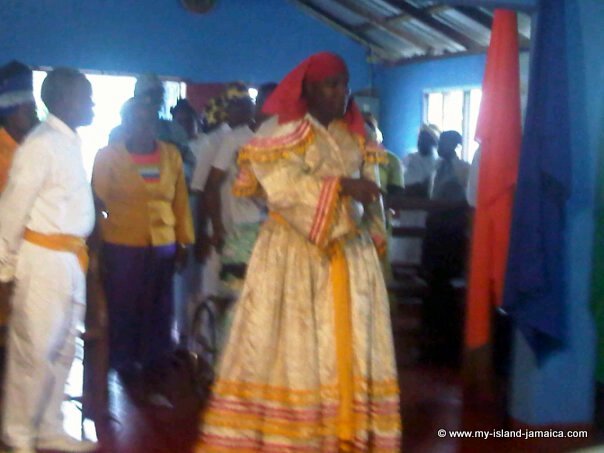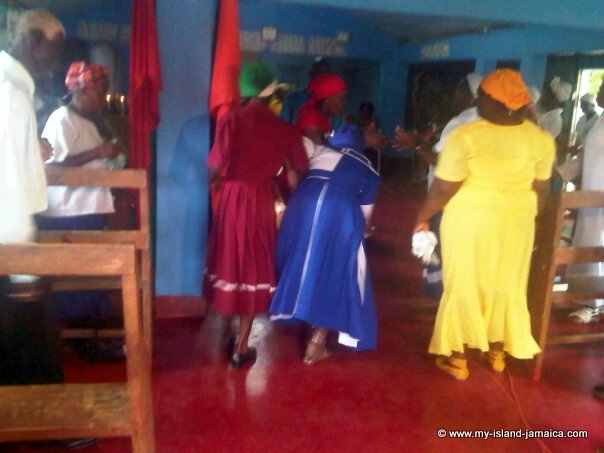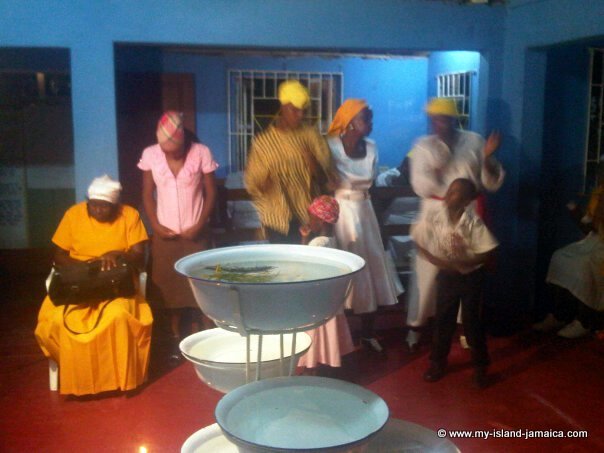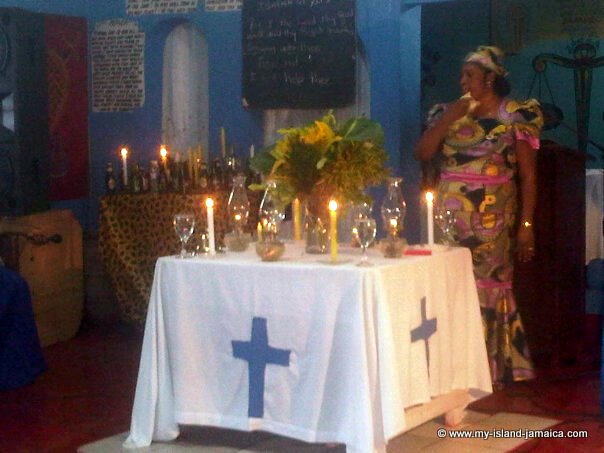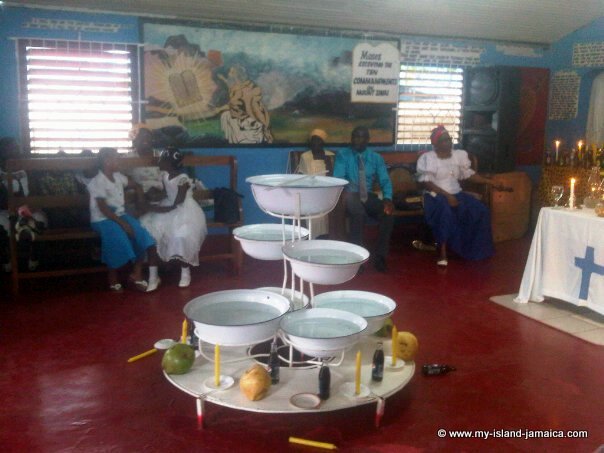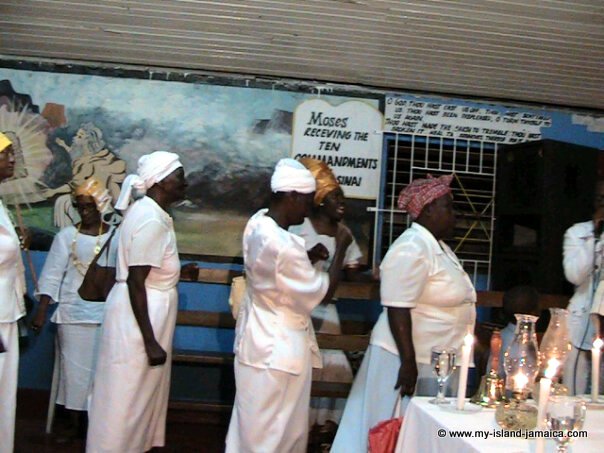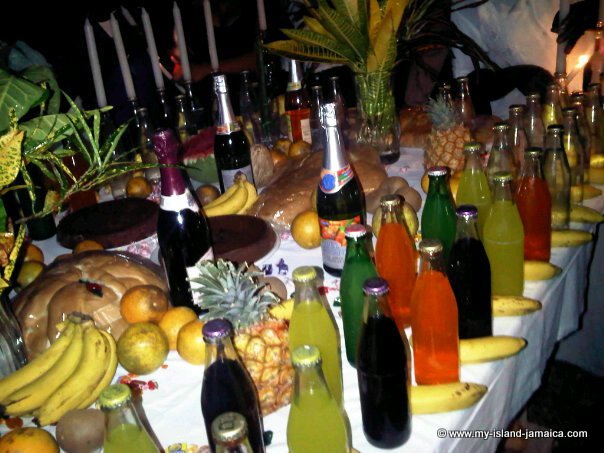 Back To Top of Revivalism in Jamaica
Remember my punch phrase? Yup...
"Jamaica is not only about the scintillating beaches and the alluring reggae music, there are lots more" Revivalism in Jamaica is yet another intriguing aspect of our unique and adorable country.
Related Pages:
Rastafarian Faith
Famous Places in Jamaica
Historical Sites In Jamaica
Exciting Places to Visit in Jamaica
Jamaican Culture
Our Jamaica Blog
And Even MORE...Search Here
---
Please subscribe to my monthly newsletter, My Island Jamaica Digest. It tells you each month about the new information that I have added, including new developments and great stories from lovers of Jamaica.Last modified on: 02/10/2012 18:37:49
---
Please subscribe to My Island JamaicaMini-Blog also. This RSS feed is a small blog about Jamaica (kind of a journal), which will also let you know whenever any new or changed Web pages appear on My-Island-Jamaica.com. It keeps you up-to-date with other special postings that you might otherwise miss.
Look for the XML|RSS graphic on the links bar to the left of this page and subscribe there.


Return to Jamaica Religions from Revivalism in Jamaica Return to My Island Jamaica Homepage from Revivalism in Jamaica