Traditional

Jamaican Dances

Custom Search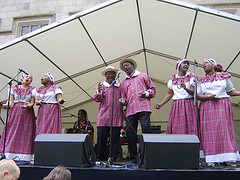 Over 30 traditional Jamaican dances have been identified here, and according to the National Library of Jamaica (NLJ) they fall roughly under three categories:
African derived, European derived and Creole-which a mixture of both types.
The African derived dances are mainly religious ones being integral parts of ceremonies of worship. These dances take the ritualists into the realm the spiritual and heighten their readiness for possession e.g. Kumina, Myal and Pocomania.
Many believe that we are highly indebted to our Maroon Communities for the preservation of these aspects of our African Heritage.
There are also other African derived dances that were social in intent and which are still performed in Jamaica. These include Etu, Quadrille and Maypole which, though originally of religious significance, is now largely social.
The dances which accompany work songs and ring games also fall into this category.
The best European legacy is said to be the Morris dance, brought to Jamaica by indentured servants from England, Scotland, and Ireland.
The Creole dances that were created in Jamaica tend to borrow elements from both European and African cultures e.g. Johnkannu [Jonkonnu] - the oldest and most popular, and Bruckin's, Pucomina and Revival.
Dance is also represented during the Jamaican Hosay, a Caribbean East Indian festival.
Jonkonnu and Hosay are considered secular dances, despite the performance of Jonkonnu around Christmas time.
For detailed information on each of these dances, click her to see the list of Jamaican dances.
RELATED PAGES
Reference:
Wikipedia.org
National Libray of Jamaica
Return to Jamaican Culture from Jamaica's Traditional Dances
Return to My Island Jamaica Homepage from Traditional Jamaican Dances
Thanks For Reading!
Like What You Just Read?

Please join me in my effort to share the beauty and uniqueness of Jamaica with the world. You can do so by sharing this insightful narrative on the social media of your choice and ask others to do the same (BELOW). 
What's New? Here Are The Very Latest Articles I Added

May 17, 15 10:55 AM

Montego Bay Resorts Jamaica: Here are the top 50, the very best ones!

May 11, 15 06:58 PM

So for so many years we come to Negril, Jamaica! We started over 20 years ago at Foote Prints. Felt loved and cared for! Went on lots of wonderful trip

May 01, 15 01:13 PM

My first trip to Jamaica was a wonderful one! At first I was kind of skeptical when I heard of the crime rate. But I stayed in Mandeville which seemed
Get Exclusive Updates & Tips!
You are also welcome to join my special friends list and receive exclusive updates (like this), tips, trivia and stories from lovers of Jamaica!
I'll Gift You A FREE COPY of my eBook, 101 Intriguing Facts About Jamaica - just for subscribing!

Just enter your email & name below:
Now, It's Your Turn!  :-)
I'd like to hear from you, please click here to share your thoughts and opinions, right now.


Didn't find exactly what you were looking for?
Click Here to do a quick search of the entire site
Top Of Page