Pictures of Cricket in Jamaica
Cricket in Jamaica, and by extension, the Caribbean is more than just the match, it is an event, an exciting affair.
The West Indies cricket team was playing India in their final warm-up match on March 9 before the 2007 ICC Cricket World Cup kicked off. West Indies did not perform as expected, but my crew and I enjoyed ourselves thoroughly.
We grabbed every opportunity to take the shots. We were never going to miss these moments.
For a background into the game of cricket here in Jamaica, click here
Surely a Kodak moment! Dwayne Bravo is one of my favourite players and I had the opportunity to speak to him in person today. Of course the photo topped it off. A policeman stand guard in the background.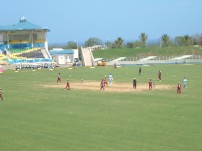 We got inside late as a result of congestion and security measures outside, but I had plenty to of time to get a shot at the match live! The West Indians were fielding at that time, led by Brian Lara.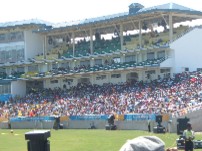 The stands which were opened were all full. Pretty good for a warm up match although these are two rival teams. The crowd behaviour was impeccable. Admittedly, we never usually have much problems at cricket matches.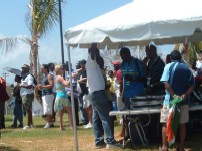 By the way, the only tickets we could get was for the party stand. The Caribbean music was pulsating. The DJ's here did a good job keeping the party vibe. We were treated to Roots, Reggae, Soca and all.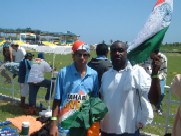 You always meet someone new at cricket. Today I must this fanatic indian supporter. He was staying in Montego Bay coming all the way from India.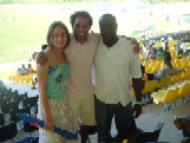 Padip,his wife Angelie and I posed here. The couple is from Dehli. They said they are ardent supporters of the Indian team, and they wanted to experience cricket in Jamaica. We had friendly exchanges. Very nice couple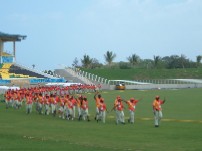 I could not miss this. This was quite spectacular. They volunteered towards the preparation for the Opening Cermony on March 11, 2007. They walked the circumference of the field singing and dancing.




Now If you are passionate and excited about cricket and cricket pictures like I do, take a look at
this informative website
. It provides insightful information on getting cricket pictures as well as general information about cricket matches, teams, history and even how to play the game!
---
Please subscribe to My Island Jamaica Mini-Blog also. This RSS feed is a small blog about Jamaica (kind of a journal), which will also let you know whenever any new or changed Web pages appear on My-Island-Jamaica.com. It keeps you up-to-date with other special postings that you might otherwise miss.
Look for the XML|RSS graphic on the links bar to the left of this page and subscribe there.
---
Return to Sports Played In Jamaica from Cricket in Jamaica OR
Return to My Island Jamaica from Cricket in Jamaica