Simple and Easy

Jamaican Jerk Chicken Recipes
Custom Search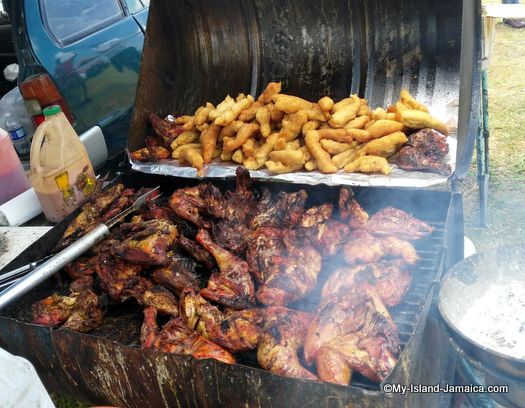 This is the second of the Jamaican jerk chicken recipes we have here. The original which was submitted by my co-writer, Tracie Blake, was posted here.
Known and loved worldwide, the Jamaican Jerk chicken is an ideal for almost any occasion here.

It is generally a spicy dish, but jerk chicken can be done without the hot spices as well. I'll introduce you to the yardie (local) style of preparing jerk chicken.

Items Needed


3 – 4 lbs chicken or leg quarters
5 scotch bonnet peppers
3 tsp thyme
3 medium onions
2 tsp salt
2 tsp sugar
2 tsp black pepper
½ cup olive oil (optional)
1 cup orange juice
1 cup white vinegar
10 cloves garlic
Pimento


Preparation


Ensure that chicken is properly thawed, cleaned and wash with vinegar or lime.
Cut in desired pieces.
Chop onions garlic and peppers.
In a blender, blend all the ingredients.
Rub ingredients onto chicken and ensure that it is rubbed under skin and cavities.
Leave the chicken to marinate for an hour or overnight in the refrigerator - not the freezer.
By the way, you get the prepared jerk seasoning at most supermarkets that shelve Jamaican or Caribbean groceries - Walkers Wood Jerk Seasoning is a popular choice. That way you only need to rub it on the chicken!
Grill chicken slowly, occasionally adding the blended seasoning until chicken is tender.
Cool and serve with bread, rice, spaghetti or your choice of food.
Now sit and let your tasted buds go wild in jerk chicken heaven, you are sure to enjoy it, and probably want more!
P.S. Another way to prepare it is to grill over pimento branches and charcoal to give the signature jerk flavour. And by the way, I have dozens more like this for you!
Visit my free Jamaican recipes page here and have a feast :-)
Pages Related To Jamaican Jerk Chicken Recipes
Make sure you subscribe to my free monthly e-zine My Island Jamaica Digest (MIJD) and stay with the latest from Jamaica!
---
Didn't find exactly what you were looking for?
Do a quick search of the entire site.
---
Return to HomePage from Jamaican Jerk Chicken Recipes

Like our Facebook page https://www.facebook.com/myislandjamaica
Follow us on Twitter https://twitter.com/myislandjamaica
Thanks For Reading!
Like What You Just Read?

Please join me in my effort to share the beauty and uniqueness of Jamaica with the world. You can do so by sharing this insightful narrative with your friends on the social media of your choice and ask them to do the same (BELOW). 
Great Articles You Might Have Missed
Need Help?
We have a cherry list of top Jamaican companies that might be able to help you. Please click here to see them, our preferred partners and site sponsors.
Get Exclusive Updates & Tips!
You are also welcome to join my special friends list and receive exclusive updates (like this), tips, trivia and stories from lovers of Jamaica!
I'll Gift You A FREE COPY of my eBook, 101 Intriguing Facts About Jamaica - just for subscribing!

Just enter your email & name below:

Top Of Page