Authentic Jamaican

Escoveitched Fish

Recipe

Custom Search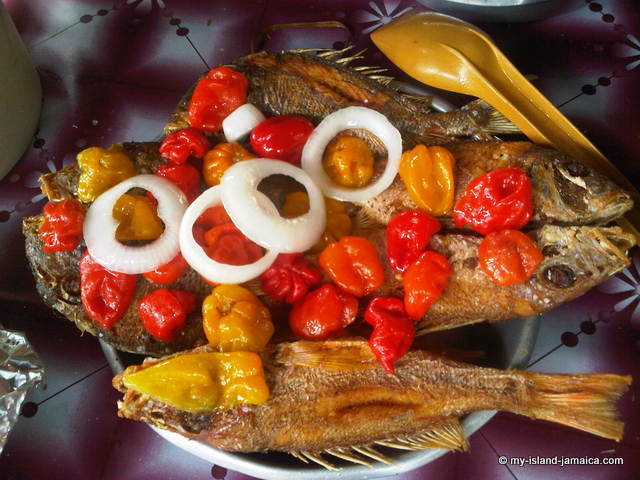 Jamaican Escoveitched Fish Recipe by Kemoy McCurbyn
Escoveitched is also another quick and easy way to prepare fish. This method of cooking the fish is the all-time favorite way that I (and most Jamaicans) prefer to prepare our fish. 

Here now is a quick and easy recipe that will definitely turn you into an escoveitched fish lover-  if not already are :-)

Escoveitched Fish recipe

Preparation Time: 10 – 15 Minutes

Cook Time – 20 Minutes


INGREDIENTS

• 2 lbs  whole or sliced fish
• ½ cup cooking oil
• 4 tbs fish seasoning
• 2 tsp black pepper
• 1 tsp salt
• 3 cloves garlic
• 2 whole lime or lemon or ¼ cup vinegar


METHOD:

• Clean fish and wash with lime / lemon juice or vinegar
• Put fish to drain on paper towel and make a diagonal cut on each side of the fish.
• Combine fish seasoning, salt and black pepper in a small dish
• Place oil in frying pan to heat.
• Crush the garlic and place in the frying pan, while the oil is being heating.
• While oil is being heated, rub seasoning in the fish cavity, and on the outside, make sure to season thoroughly.
• Ensure that the oil in the frying pan is very hot
• Place 2 fish at a time in the preheated oil
• Fry until each side of the fish is golden brown
• Place each fried fish in dish that can be covered

Sauce

• 3 tbsp oil from the pan that fish was fried in
• 2 cups white or cider vinegar
• 3 medium sized carrots, julienned
• 2 large onions cut in rings
• 3 scotch bonnet or hot pepper cut in rings
• 6 pimento berries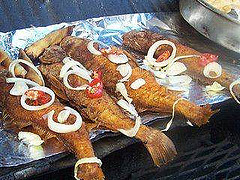 Method

• Combine oil, vinegar, carrot, onion, pepper and pimento in sauce pan
• Cook carrot and onion until tender
• Pour sauce while hot onto fish
• Cover dish and marinate for 2 hours

Add slices of pepper, onion, and carrots tp add additional garnishing. Now serve fish with your favorite side dish, and enjoy.
Escoveitched fish is typically served here with a few slices of bread, festival or bammy.
When escoveitched the fish boast a lot of flavor, seasoning and spices, that makes it mouthwatering.

And by the way, even persons who are not big fish lovers would tell you that perhaps their choice would be escoveitched fish.
Do enjoy and please share, the links to share are below.

Related Pages
Return to Jamaican Fish Recipes from Jamaican Escoveitched Fish Recipe
Return to My Island Jamaica Homepage from Jamaican Escoveitched Fish Recipe
Like our Facebook page https://www.facebook.com/myislandjamaica
Follow us on Twitter https://twitter.com/myislandjamaica
Thanks For Reading!
Like What You Just Read?

Please join me in my effort to share the beauty and uniqueness of Jamaica with the world. You can do so by sharing this insightful narrative with your friends on the social media of your choice and ask them to do the same (BELOW). 
Great Articles You Might Have Missed
Need Help?
We have a cherry list of top Jamaican companies that might be able to help you. Please click here to see them, our preferred partners and site sponsors.
Get Exclusive Updates & Tips!
You are also welcome to join my special friends list and receive exclusive updates (like this), tips, trivia and stories from lovers of Jamaica!
I'll Gift You A FREE COPY of my eBook, 101 Intriguing Facts About Jamaica - just for subscribing!

Just enter your email & name below:

Top Of Page